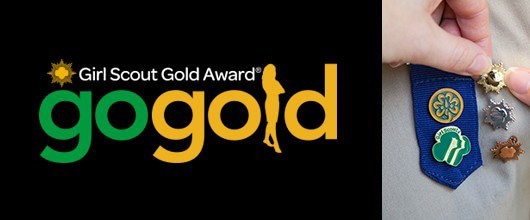 Gold Award
The Girl Scout Gold Award is the highest award a Girl Scout can earn. Once achieved, it shows colleges, employers, and your community that you're out there changing the world.
Join a century of women who have done big things. Learn about scholarships for Gold Award Girl Scouts, the history of the Gold Award, and the benefits of going Gold. 

You can pursue your Girl Scout Gold Award if:
 

You're in high school (ninth through twelfth grade, or equivalent) 
 

You're registered as a Girl Scout Senior or Girl Scout Ambassador
 

You have completed two Senior or Ambassador Journeys OR earned the Girl Scout Silver Award and completed a Journey
 
Girl Scout Gold Award Steps


Investigate your issue thoroughly
 

Get help and build your team
 


Present your plan and gather feedback 
 



Before you start your project attend training! 
This training will help guide you, and your advisor, on your journey toward earning the Girl Scout Gold Award. You all will learn about the requirements, the new online portal, timing of your projects, and deadlines.  
Training is MANDATORY for any girl who wishes to pursue earning the Girl Scout Gold Award.
Cost: $10
See calendar for upcoming Girl Scout Gold Award Trainings.
Earning the Girl Scout Gold Award also qualifies you to apply for the Girl Scouts Heart of the South Gold Award Scholarship. This scholarship is awarded based on achievement in Girl Scouting, academics, leadership, and extracurricular activities.
 
The Girl Scouts Heart of the South Gold Award Scholarships are one-time scholarships of $1,000.
The application is due March 15 each year.