This day is designed with our Girl Scout volunteers in mind and features informative sessions including tracks for individual Girl Scout Grade Levels. This is a perfect opportunity to get both ideas for next year and a jump start on your planning.
The variety of sessions will offer unique and interesting topics designed to increase knowledge, help you to practice new skills, provide valuable networking opportunities, and - most importantly - give you the chance to meet your fellow volunteers, make new friends, and have fun! Please pick your Grade Level Track based on the level your troop will be in the fall.
Continue >

2017 State of Girls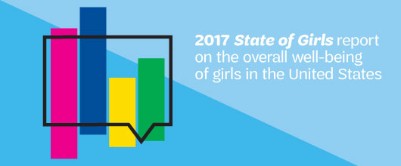 A new report from the Girl Scout Research Institute (GSRI) on the overall well-being of girls in the United States shows that although girls' high school graduation rates have improved, obesity, drug use, and economic challenges are on the rise. Knowing that girls in lower socioeconomic-status homes are primed to make up the bulk of American girls, Girl Scouts is helping bolster their educational achievement—and encouraging all Americans to take a more active role in girls' welfare.

Continue >