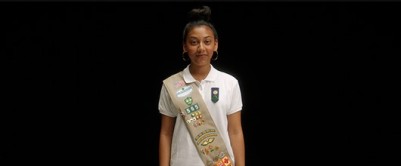 At Girl Scouts, girls are exploring what's possible, turning dreams into reality, and changing the world. Here, you'll take on leadership roles as you engage in all sorts of girl-led activities and develop skills you'll use to make a difference. You'll unleash the confidence you need to pursue what you love and stand up for what you believe in.
Are you ready to take the lead? Because at Girl Scouts, it's your time to shine.  Watch now
Continue >

With new programs in outdoor adventure and STEM and the promise of dozens of new skills to learn and awards to earn, at Girl Scouts the trail is hers to blaze! Whatever her next step looks like, we can help her make it happen. Her next step is powered by Girl Scouts.

Continue >