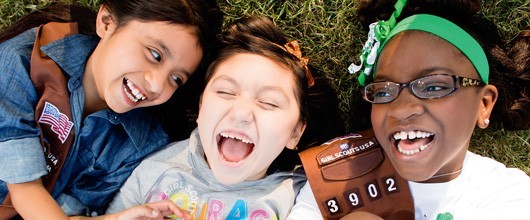 Who We Are
We're 2.5 million strong—1.7 million girls and 750,000 adults who believe in the power of every G.I.R.L. (Go-getter, Innovator, Risk-taker, Leader)™ to change the world. Our extraordinary journey began more than 100 years ago with the original G.I.R.L., Juliette Gordon "Daisy" Low. On March 12, 1912, in Savannah, Georgia, she organized the very first Girl Scout troop, and every year since, we've honored her vision and legacy, building girls of courage, confidence, and character who make the world a better place. We're the preeminent leadership development organization for girls. And with programs from coast to coast and across the globe, Girl Scouts offers every girl a chance to practice a lifetime of leadership, adventure, and success.
Our Mission
Girl Scouting builds girls of courage, confidence, and character, who make the world a better place.


Girl Scout Promise 
On my honor, I will try:
    To serve God and my country,
    To help people at all times, 
    And to live by the Girl Scout Law.
 
Girl Scout Law
I will do my best to be
    honest and fair,
    friendly and helpful,
    considerate and caring, 
    courageous and strong, and
    responsible for what I say and do, 
and to 
    respect myself and others, 
    respect authority,
    use resources wisely,
    make the world a better place, and 
    be a sister to every Girl Scout. 
 
About Girl Scouts Heart of the South
Throughout the nation, Girl Scouts has 111 regional councils—we're 2.7 million girl members strong—and last year, Girl Scouts Heart of the South (GSHS) served more than 6,000 girls, with the help of nearly 2,000 volunteers, who live by the Girl Scout Promise and Law.
We serve 59 counties in north Mississippi, west Tennessee and Crittenden County, Arkansas, and maintain three camps and three regional leadership centers. The council's headquarters is located in Memphis, Tennessee at 717 S. White Station Road. 
Counties Served:
Arkansas: Crittenden
Mississippi: Alcorn, Benton, Bolivar, Calhoun, Carroll, Chickasaw, Choctaw, Clay, Coahoma, DeSoto, Grenada, Holmes, Itawamba, Lafayette, Lee, Leflore, Lowndes, Marshall, Monroe, Montgomery, Noxubee, Oktibbeha, Panola, Pontotoc, Prentiss, Sunflower, Tallahatchie, Tate, Tippah, Tishomingo, Tunica, Union, Washington, Webster, Winston, Yalobusha
Tennessee: Benton, Carroll, Chester, Crockett, Decatur, Dyer, Fayette, Gibson, Hardeman, Hardin, Haywood, Henderson, Henry, Lauderdale, Lake, Madison, McNairy, Obion, Shelby, Tipton, Weakley
In addition to supporting and providing resources for the full complement of Girl Scout experiences such as badge earning opportunities and Girl Scout Journeys, Girl Scouts Heart of the South offers year-round program activities that enhance girls' learning and Girl Scout adventures.
Girl Scouts Heart of the South is  proud to be the creators of the National Stand Beside Her Movement - a call to action for women and girls to end the comparison, competition and criticism that undermines female relationships. Together we can propel each other forward by creating an inclusive culture of support, compassion and celebration of each other's success.
Each year during National Stand Beside Her Week (the last week in October), participating organizations encourage others to commit to supporting girls and women in their lives, their home, their office and in their community.
In addition to participating in meaningful and unique initiatives like Stand Beside Her, GSHS also offers girls of all ages the opportunity to enjoy the great outdoors through our robust camp and equestrian programs and gives girls the opportunity to explore their world through our Girl Scouts GO!  yearly travel program. 
Along with our vast programming for girls in grades K-5, GSHS offers additional unique opportunities for older girls  and several local scholarship opportunities for high school seniors.
GSHS also supports our families and volunteers by providing inspiring and informative communications including "Heartstrings," our monthly council news publication for parents and volunteers and our bi-annual, published magazine, The Promise.
Girl Scouts Heart of the South also partners with other local businesses and organizations throughout the year to offer unique programming and events for our girls.
Girl Scouts Heart of the South is a great place to be! Whether you've joined a troop or registered as an individual member, please know that we are here to ensure that you have an amazing Girl Scout experience.